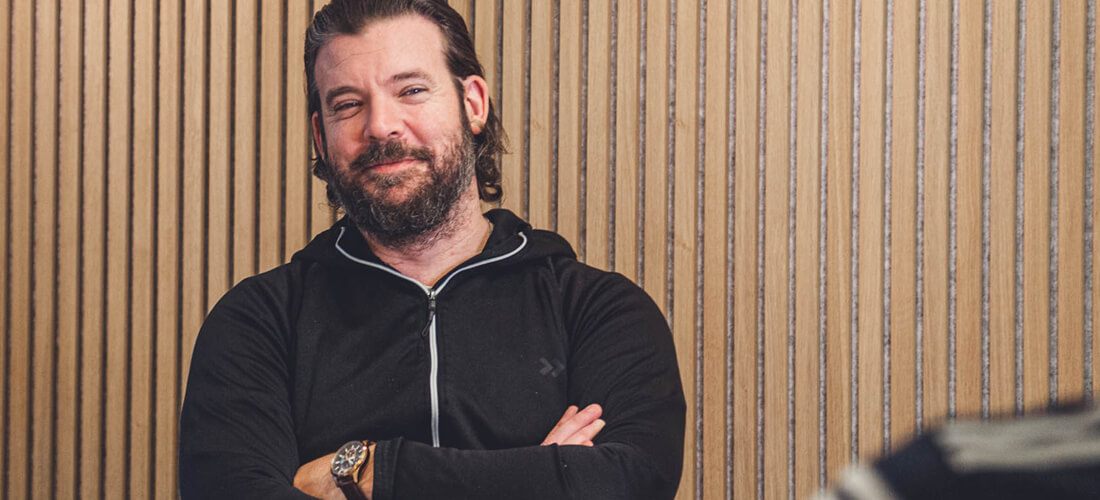 Emil Fuchs morning routine is sacred: a cup of black coffee and then booting the computer up to check that the night's shipments have gone well.
– The trucks do not stop rolling just because I go home, says Emil, Senior Freight Forwarder at InterEast.
As a personal forwarder Emil feels a great responsibility for his clients and keeps a watchful eye to ensure that pickups, shipments and transports is going according to plan.
Emil's journey as a freight forwarder began in 2017 when he chose to spend both his LIA internships at InterEast. LIA Internship was a major part of the program International Freight Forwarder with Focus on Sustainable Solutions at YRGO, which Emil studied. After completing his education, he received the offer to start as a Junior ​​Freight Forwarder. Since then, just like his 180 monthly shipments, the ball kept rolling.
– There is something special with logistics. The industry has always interested me and I have worked as a truck driver, with production at Volvo and as a warehouse worker.
Emil planned to work with ocean freight but by coincident ended up with road freight instead, which in hindsight he finds more enjoyable and that it also suits him better.​
There is something special with logistics. The industry has always interested me and I have worked as a truck driver, with production at Volvo and as a warehouse worker.
What is a day like as a freight forwarder at InterEast?
– The old saying "no two days are alike" is actually true at InterEast, say Emil with a smile.
As a freight forwarder at InterEast, you handle the whole process from customer contacts to billing. Large resources are being spent to offer the best possible customer service. Among else, the freight forwarders handle fewer clients per person than the industry average to enable them to always be solution-focused. According to Emil, a great portion of the supply chain is out of the freight forwarders control and a lot can go wrong in the process. It is key to focus on the solution and not point fingers, be understanding towards each others situation and not take it personally.
– A part of me likes it when things don't go to plan. It brings out the best in me. But it is rough when situations occur where it is not possible to please everyone. Luckily that seldom happens.
To be a successful freight forwarder Emil believes that you should be genuinely interested in helping others. Emil himself values honest and direct communications – and friendly banter of course.
In what ways have your profession and industry changed during your years as a Freight Forwarder?
– Since 2017, the industry has been more challenging and it is harder to find cars and drivers. We still have to deal with the aftermath of the Suez Canal accident. Then it is good to know that I have the capacity and time to find the best solutions for my clients.
In the future, Emil sees an increase in both sustainable transportation and shipping alternatives. Emil believes that the biggest challenge lies with if the clients' willingness to accept the higher costs they might face. But, Emil sees a bright future ahead and is happy with his role and upcoming challenges.
– The best thing about working at InterEast is the creative environment with easy cooperation and the familiar atmosphere.
Emil started at InterEast four years ago as an LIA intern and is today a key player as a Senior Freight Forwarder. A lot can happen in just a couple of years.